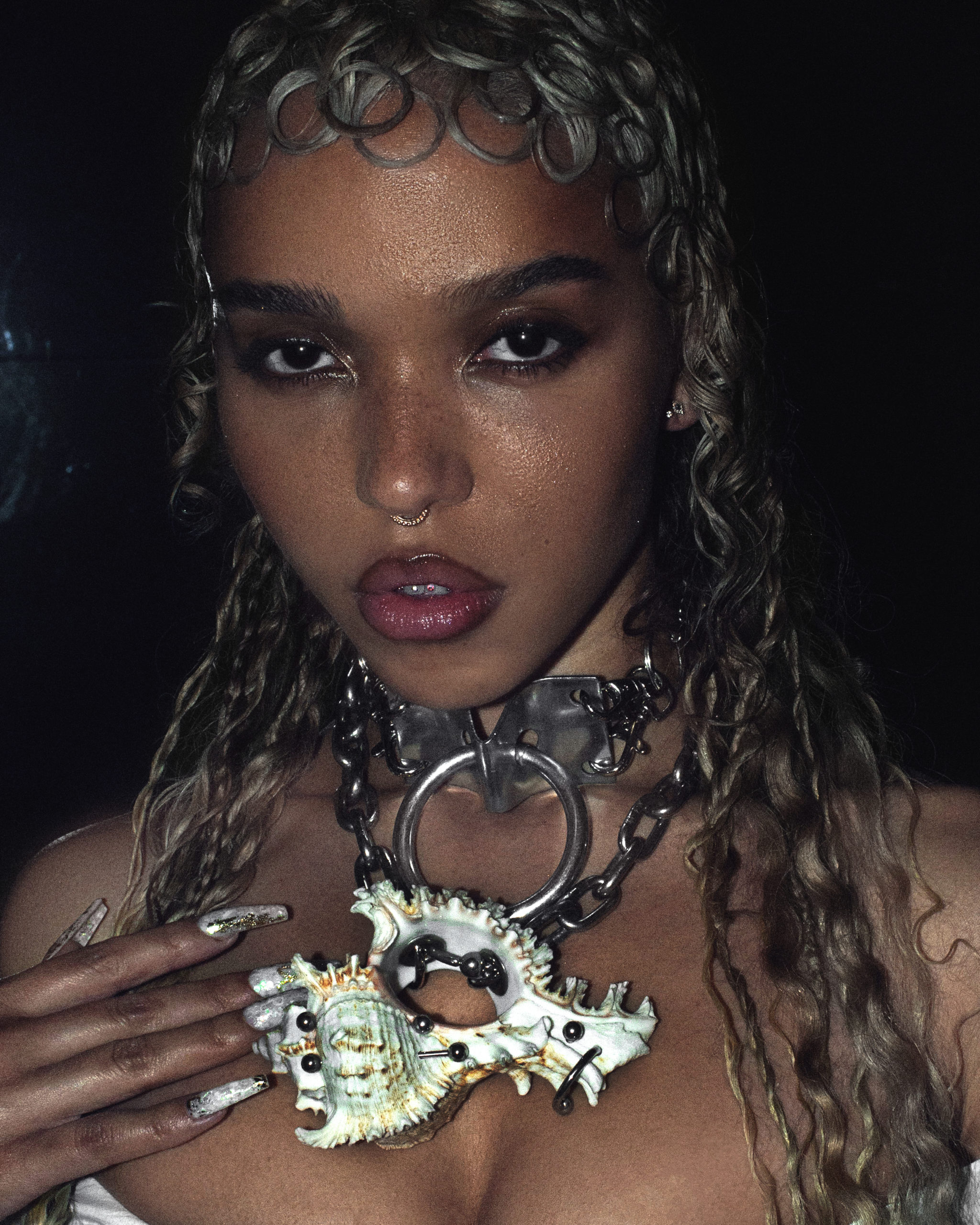 Since the release of her first album LP1 (via Young Turks) in April 2014, FKA twigs has defined herself as a multidimensional, genre defying icon. Going on to be nominated for the prestigious Mercury Prize that same year, since her musical debut the singer has also become an MTV EMA Award, MOBO Award and NME Award winner alongside being nominated for a Grammy, BRIT, and BET Award.
With such a strong background in performing it is no surprise that FKA twigs exploded onto the live scene and  immediately became renowned for her awe-inspiring performances. Noted in 2015 by Billboard for "the serpentine slither of her arms and the contortionist arching of her back, which mirror the motions in her music", this combined with her ethereal, operatic vocal and soaring, future-leaning production has kept audiences hooked year on year. As well as her astounding musical triumphs, over the years FKA twigs has been creatively relentless, from starting and starring in her own webzine 'AVANTgarden',  to making a short film for Apple with the legendary Spike Jonze, both of which have been received with high acclaim by the likes of Dazed Media, Highsnobiety and Pitchfork.
FKA twigs' long-awaited sophomore album came in 2019 in the form of MAGDALENE. Released by Young Turks, it is a 9-track exercise in catharsis complete with astounding musical soundscapes and deeply evocative lyrics. Noted by The Independent as "the sound of a woman teetering on the brink of collapse, gathering herself, and then erupting into a kind of defiance", MAGDALENE, though written from a place of pain and heartbreak, was a beautiful depiction of exactly what FKA twigs can do. From there, in November 2021, FKA twigs shared single 'Measure Of A Man' (ft Central Cee) which featured in the film The King's Man starring Ralph Fiennes.
In January 2022, Grammy nominated artist FKA twigs released new mixtape CAPRISONGS  (released via Young & Atlantic Records), showing yet another new dimension to FKA twigs' visceral talent. A departure from her previous works, CAPRISONGS is a reflection of where twigs is today. "I think that this project has definitely been an amazing vehicle to the next phase of my career that I didn't know was in my reach," she says. "That's how I feel. I feel like it's been an incredible learning experience." NME have dubbed the mixtape a 'varied collection' that 'shows a new side to the once unattainable star' and The Guardian describing it as 'party tunes and hard-won notes to self'. Including several collaborations with the likes of Unknown T, Pa Salieu, Jorja Smith and Shygirl, lead single 'Tears in the Club' sees FKA twigs partner up with powerhouse and multi-award winner The Weeknd. The song is accompanied by a captivating music video teeming with signature FKA twigs choreography, and has already gained almost 6 million views.